Optimizing your metabolism is the key to weight loss (a high metabolism means you burn calories even at rest, making all lazy people's dreams come true), so we asked some of the country's top functional medicine practitioners what foods raised our resting metabolic rate. Here's what they had to say.
1. Sea vegetables:
Your body needs an über-important nutrient to make your T4 and T3; everyone, say hello to iodine. The best way to get this little thyroid hormone maker is through sea vegetables.
The problem with this? Who eats sea vegetables!? YOU can! Soaking seaweeds like nori, dulse, arame, kelp, Irish moss in soups or blending blue-green algaes like spirulina in a smoothie is one next-level way to give the powerhouse of your metabolism what it needs.
2. Salt water
The best thing to eat to boost your metabolism is not a food, it's to get enough good-quality sleep. But in terms of substances you ingest, I recommend starting the day with a glass of spring water with a teaspoon of sole in it. Sole is a supersaturated salt solution made with pink Himalayan salt. This will replenish your body's mineral stores and help to keep you hydrated, which will keep all your body's machinery, including your metabolism, running smoothly.
3. Blueberries:
Fruit is not always seen as the best category of food to boost metabolism due to sugar, but blueberries actually help balance blood sugar (due to its high-fiber content and anthorepletecyanin content) and reduce inflammation as they are high in antioxidants. They have been studied to help reduce the risk of cancer, heart disease, high cholesterol, high blood pressure, diabetes, and to help improve brain function and memory and reduce muscle damage post-workout.
4. Protein:
Try to consume the minimum protein that preserves muscle mass. About 35 percent of muscle protein is the essential amino acids leucine, isoleucine, and valine, together known as branched-chain amino acids (BCAAs). Get optimal amounts of high-quality and anti-inflammatory protein from wild-caught fish, grass-fed beef, and free-range poultry. Vegans and vegetarians, choose high-quality plant-based proteins like legumes, quinoa, and raw nuts. Protein powders, especially pea, provide high amounts of BCAAs. You can also supplement with BCAA powder or capsules. Aim for about 5 grams or more of these amino acids per day.
5. Cacao: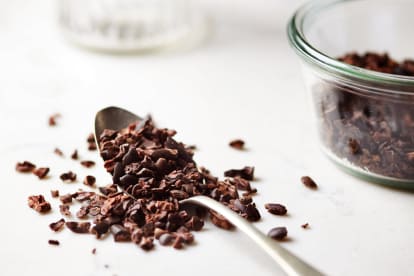 You're going to love me for this. As a metabolism booster, I love raw cacao. That's chocolate in its natural, unprocessed state. It is rich in minerals, particularly magnesium—the most important nutrient found to affect adiponectin levels. Adiponectin is a protein hormone exclusively made in fat tissue. Low levels are associated with inflammation, obesity, and a higher risk of diabetes. Adequate magnesium intake is critical for maintaining healthy adiponectin levels for weight management.
6. Indigestible fiber:
Most Americans don't eat enough fiber in their diet. The goal is to get at least 25 grams a day and most people barely get half of that. Not only does it help relieve bloating by keeping your digestive system moving smoothly, but it can also boost your metabolism. Specifically indigestible fiber, which requires additional energy expenditure so you burn more calories. Adding more fiber to your diet will also help keep you full for longer and help you avoid overeating. The key is to go slowly by increasing by a few grams every week so that you don't overload your system, leading to abdominal pain and constipation.
7. Fasting:
It is a meal plan developed at the University of Southern California by Valter Longo, Ph.D., and his team of researchers and is followed five days per month. The FMD meal plan is low in carbohydrates and proteins and contains good fatty acids from whole olives and nuts. This allows the body to remain under a fasting-like mode, which triggers a set of protection measures that the body has developed during natural selection when food was scarce and not easy to find and store. This caused the body to optimize its performance, rejuvenate its cells, and thrive under such circumstances.
8. Papaya and pineapple: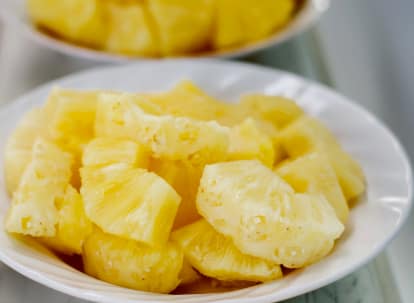 Boost your metabolism by improving your digestive enzymes profile—include foods like papaya or pineapple.
Article Source: mindbodygreen.com
exercise
,
fitness tips
,
health
,
health tips
,
healthy living
,
lifestyle
,
maje ayida
,
metabolism
,
salt water
,
sea food
,
trainers
,
weight loss
,
wellness